I'm so exicted to have one of my favorite people over to share with you today, she's no stranger to WhipperBerry, She's my sweet friend Christene! She is about ready to publish her first novel and I'm so excited to have her here today to share a snippet from the book and then to share a fun last minute treat that you can share with your friends this 4th of July week!
---
"Wow, this is a great picture," I said, a sudden wash of loneliness coming over me.
"Took it the day before," the man said. I could see he was tapping his arm, the one that took the place of flesh and blood. A sudden rushing filled my ears at his words.
"The day before what?"
"The day before the blast."
My mouth fell open and I felt the candy bars slip from my fingers to the floor. My heart thumped madly in my chest. "You….you were there?"
He looked up at me with tears in his eyes, "I was the only one who came home."
-A Heart So Broken by Christene Houston
That's an excerpt from my debut novel A Heart So Broken coming out in September! My name is Christene Houston and I've had the pleasure of visiting WhipperBerry before with some yummy recipes and fun crafts. I always love rubbing shoulders with my ultra talented friend Heather!
Today I wanted to share a take home treat from the Book Release Party I'm planning for September. The theme is patriotic, paying homage to Jenna Tucker's Marine roots and fitting right in with this festive time of year. These darling little jars of popcorn come all dressed up for the party in classic red, white and blue. And because they're quick and easy, I thought you might like to make some for your 4th of July parties this week.
All you need is some pint-sized mason jars, a little spray paint, some raffia, a white paint pen and Jello popcorn (see recipe below). First punch holes in your bottle caps with a cropodile tool, then spray paint the jar lids red and the bottle caps blue. When they're dry, write your favorite patriotic words with the white paint pen on the bottle caps. I used words like FREEDOM, BRAVE & LIBERTY. Tie your tags on with raffia ribbon and your set to go. I am seriously in love with bottle caps lately and they turn out SO cute in this project!
Of course a beautiful bottle is nothing without something yummy to fill it. My friend Jamie told me about Jello Popcorn with the bright colors and tasty glaze. I went searching and found this great recipe for it on KraftRecipes.com  and modified it to my needs.
Jello Popcorn
12 c. popped popcorn
¼ cup (1/2 stick) butter
3 Tbsp. light corn syrup
½ cup firmly packed light brown sugar or granulated sugar
1 pkg. (4-serving size) JELL-O Gelatin
PLACE popcorn in a large bowl; set aside.
PLACE butter and syrup in small saucepan; cook on low heat until butter is melted. Add sugar and gelatin; stir until gelatin is completely dissolved. Bring to boil on medium heat. Reduce heat to low; simmer 5 minutes. Pour immediately over popcorn mixture; toss to coat well. Spread into prepared pan, using 2 forks to spread evenly.
ALLOW to cool and break into small pieces.
Make a batch of red Jello popcorn and one of blue. When your popcorn has cooled, fill each jar with a bit of blue popcorn, a handful of plain, and top it off with red. I know you're feeling patriotic already!
NOW you've got a jar worth passing out to all your friends to wish them a happy and safe 4th of July.
Thanks again, Heather, for letting me come share! Come on over to Christenehouston.com to check out my blog Everything She Writes. You can read more excerpts from my upcoming novel, keep tabs on my Release Party plans (you're all invited!) and take advantage of some yummy recipes. See you there!
---
I'm so excited!!  I'm participating in Fun in the Sun with Kiki from Kiki & Company today.  You have to follow along with her fun event through the whole month on July!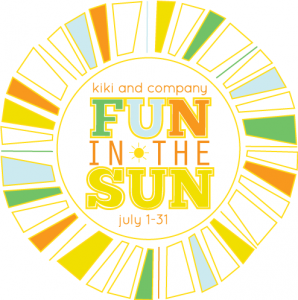 3